Medical, wholesale and distributor pricing is available for businesses who qualify.
Please call the Squip office at 908-534-1101, Monday through Friday, 8:00 AM to 5:00 PM,
Eastern time, to learn more about the pricing solution which works best for you.
FREE shipping on all orders of $30 or more!
Nasaline® Nasal Rinsing System Kit with 50 Premixed Saline Packets
Contents include:
Nasal Applicator
50 Premixed Packets of USP Grade Sodium Chloride and Sodium Bicarbonate
Storage/Travel Case
Mixing Cup
Instructions
Description
Nasaline
®

Nasal Rinsing System Kit with 50 Premixed Saline Packets
Patented Nasal Irrigation Device Developed By Swedish ENT Specialists
Why use Nasaline®?
Nasaline® Nasal Rinsing System Kit is a unique, patented, drug-free nasal rinsing system designed by a team of Swedish ear, nose, and throat specialists. With the simple use of saline solution, Nasaline® effectively washes away unwanted mucous, crusty secretions or allergens. After a prolonged stay in dry, dusty, or smoky environments, Nasaline® cleans and soothes the nasal passages, reducing nasal irritation and moistening the mucous membranes. Best when used with Nasaline Saline Solution Salt.
Nasaline® can be used to cleanse and relieve nasal passages affected by:
Nasal allergies, dryness and hay fever
Sinus pressure and nasal stuffiness
Nasal symptoms from cold, flu, and sinusitis
Post-nasal drip and nasal congestion
Nasal irritation from occupational and house dust, fumes, dander, grass pollen, smoke, etc.
Saline nasal irrigation, moisturization, and daily nasal hygiene
For use after sinus surgery and for sinus symptoms suffered by cystic fibrosis patients
What makes Nasaline®
Unique?
Nasaline® is a patented nasal rinsing system that consists of a 2 oz. syringe, a silicone tip, saline and a storage/travel case. The silicone tip was designed to fit most noses in such a way as to seal the nostril opening completely. Inside the tip, the inner channel is formed in the shape of an hourglass, producing a gentle swirl stream when the saline solution enters the nose. The silicone tip does not contain latex and is safe for direct contact with the skin.
The Nasaline® syringe delivery system has many advantages:
Allows the user to control the flow and pressure for optimum safety, comfort and effectiveness.
Protects against backflow if user slows down or stops during the rinsing process.
Easy to clean to prevent bacterial buildup.
Gentle, comfortable and smooth-flowing saline nasal irrigation.
Excellent for cleansing prior to the use of nasal medications.
Drug-free and preservative-free; non-sedating.
Used as a pH balanced and isotonic solution with one packet, or a hypertonic solution with two packets.
Suitable for use during pregnancy; consult your doctor with concerns.
Portable for travel.
Who can use Nasaline®?
Anyone 2 years or older can use Nasaline®. Children ages 2-12 should not use Nasaline® without parental supervision unless your child's doctor advises otherwise. We suggest Nasaline® Junior, a smaller nasal rinsing unit, for ages 2-12, also used with parental supervision. We recommend the NeilMed® Baby NäsaKleen® Nasal Aspirator for newborns and toddlers.
Only logged in customers who have purchased this product may leave a review.
How to Use Nasaline
® – Three Easy Steps

1. Empty 1 packet (1/2 teaspoon) of Nasaline® salt into the mixing cup.

2. Fill the mixing cup to the 8 oz/240 mL line with distilled, micro-filtered (through 0.2 microns), commercially bottled or previously boiled and cooled down water at lukewarm or body temperature. Stir to properly mix the saline solution. Extract the saline solution completely into the Nasaline® applicator.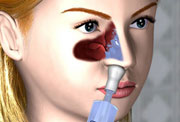 3. Stand (or sit) slightly bent over a bathroom sink or use in the shower. Put the silicone tip against the nose so that it completely seals the nostril. Breathe normally through the mouth (or say aaah…) and slowly push the saline solution up into the nostril. Refrain from swallowing; when the saline solution reaches the back of the nasal cavity, the palate closes automatically by reflex. The saline solution fills the nasal cavity and proceeds to pour out of the other nostril. Perform this process twice in each nostril. Use a tissue to blow out any remaining saline in your nose. Some of the saline can remain in the nose and trickle out later. Tilting your head forward and turning side to side immediately after flushing can prevent this.
Dosage
Use two (2) full syringes twice in each nostril per rinsing session. Rinse once or twice daily or as recommended by your doctor.
Cleaning
Remove the tip, pull out the plunger from the syringe  and flush all 3 parts with warm water. The Nasaline® applicator can also be cleaned with a mild dishwashing detergent. Dry all 3 parts. Once dry, keep the Nasaline® unit stored with the plunger inserted into the cylinder.
WARNING
For your safety, do not use tap or faucet water for dissolving the mixture unless it has been previously boiled for five minutes or more (and then cooled down) as boiling sterilizes the water. Other choices are distilled, micro-filtered (through 0.2 micron), reverse osmosis filtered, or commercially bottled water.
Each device must be used only by one user; do not share this product with others.
Follow the cleaning protocol after each use of the product. Cleaning instructions can be found in the enclosed instructions.
Replace this device within three months of your first use.
Rinse your nose gently.
Before using this product, you must read detailed warnings in the enclosed instructions or on our website at: www.neilmed.com/directions Our website will always have up-to-date warnings.
Store in a cool and dry place.
ATTENTION
Medical research recommends following the cleaning protocol fully described in the instructions for Nasaline® after every use and replacing the device after 3 months.
Choking Hazard: Small parts. Keep out of reach of children.
Directions for Use (Spanish)